The 34th annual Winter Wings Festival was a huge success and I will blog about that in the future. Right now I'm excited to share a unique event that happened on the way home.
Traveling south on 139 in a remote area I saw an animal cross in front of me. At first I thought coyote…but no. Instantly I realized it was a bobcat. There was no place to pull over so I stopped with 2/3 of the van in the road. I jumped out and ran to the opposite side where the bobcat had gone over the edge. I looked out, did not see it, then looked down. It was right there below me! I ran back to the van to fetch my camera.
Back to the edge of the road with camera in tow and this is what I see: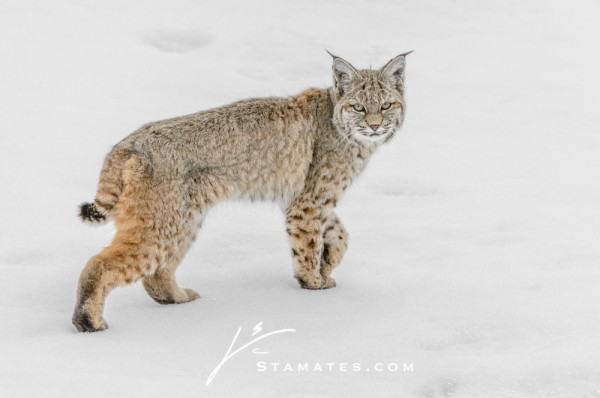 I got off a few shots just before some yahoo flew by honking his horn. The cat ran off and I went back to the van. I was so excited I pulled the van into a turnout and called Kathy. As I was telling her about the sighting the cat crosses back over the road about 50 yards in front of my van! Under the barbed wire fence and into the field it went. I hung up, don't even think I said goodbye, and under the fence I followed. I stood on a rock and scanned the area without any signs of  movement. I looked down and 10 feet in front of me under a sage bush was the cat, watching me. I got off the rock and made a large arc so as not to scare off my new friend. It moved slowly toward a clump of boulders apparently searching for food? Then it climbed on the rock, made itself comfortable, and took a cat nap. I stayed with it for 2 hours until it finally climbed down and disappeared into the field. This is one of those times I will never forget. I hope you enjoy these images.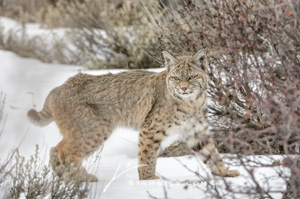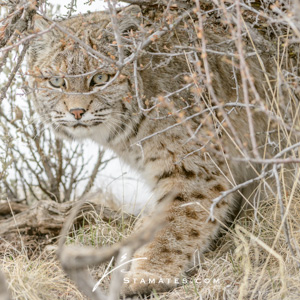 The image below was shot at 200mm full frame no crop, that's close!