That's right, FunShop, cause if it's work I'm not doing it!
We had a very successful FunShop at Klamath Falls, OR over the President's Day week starting with 2 days of fun in the field, then a Lightroom FunFlow, and ending with another half day fun in the field with new friends. Over 45 students of every level joined Kathy and I to explore bird and wildlife photography and post processing using my Lightroom FunFlow.
Sunday night we were invited to dinner by David and Cheryle from a past Teton workshop along with our friends Steve and Jami of Leo's Camera in Klamath Falls. That's were I bought my D800E.
We were so busy during the week with funshops and festivities we had little time to photograph. We decided to take Barbara Scoles, our guide, up on her offer for a private tour to some of the lesser known places on Monday.
During our adventure we stopped to photograph tundra swans as they flew toward us. A few days later Barbara emailed me and asked if I got a decent photo of one of the swans with a neck band. I searched my files and found it in flight; not good enough to read the band. I looked some more and found a shot before it took off. The banded swan is nestled within the group in this photo.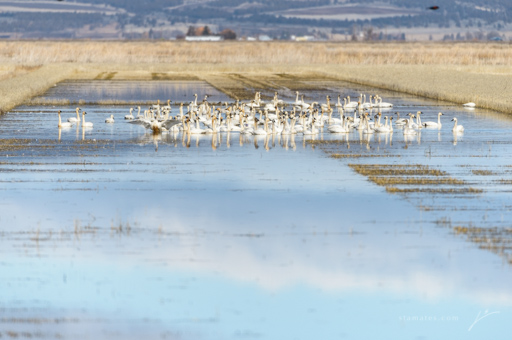 Original above D800E 200-400mm @ 400mm, ISO400 , f4, 1/6400s
Below is the cropped image of the banded swan from the image above.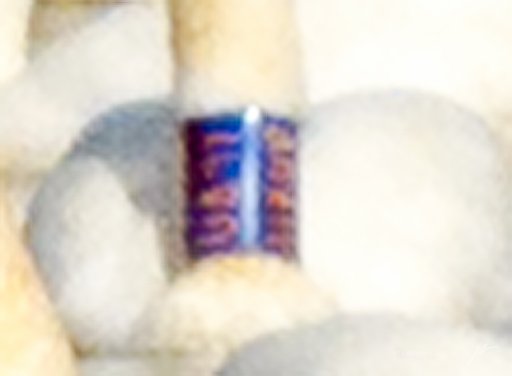 Enlarging the image way more than I should I was able to get a reading. I sent the image to Barbara who in turn sent it to Craig with the USGS. He responded with this:
U471 was banded as an adult female on 26 July 2008 on the Noatak River Delta, Kotzebue Sound Region, northwest Alaska.
Wow. 2008 in Alaska. Pretty cool. Naturally we lucked out as the atmospheric conditions, warming up after a cold morning, produced heat waves that blurred long distant shots. Shooting on a tripod with the D800E and all those megapixels we were able to identify the swan.