View from our deck.
Okay, not a real home invasion, just that this bobcat came on our deck and by the paw prints, may have looked into the sliding glass door. Just as it turned it caught Kathy's eye. She was sitting at the counter studying for an exam. She yelled to me in a whisper as she rose to watch the bobcat leave the deck. By the time I heard her it was gone. I put on my snow shoes, snow pants, etc., and headed out with my 70-200mm lens. I tracked into the forest service lot next to ours. It meandered under some fallen logs and headed toward the river where I lost the tracks. Making a loop along the river and back to our home I saw many more tracks, mostly coyote and some raccoon.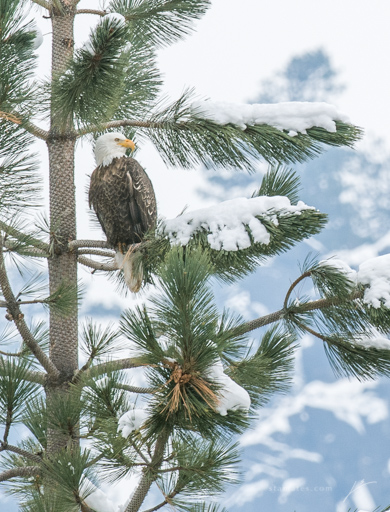 Bald Eagle 2007
We've lived at Lake Tahoe going on 46 years and have been in this house on the Upper Truckee river for over 40 years. Over the years we have seen, and I have photographed, on our property black bears, coyote, raccoons, beaver, mink, rabbits, 4 kinds of squirrels, ermine, mule deer, and lots of birds, including bald eagles, osprey, great blue herons, and a rare sighting of a barred owl. We even saw Mt. Lion tracks along the river last summer. But today was a special day.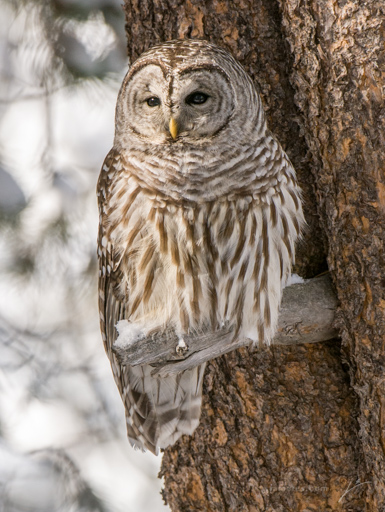 First image of a barred owl in the Tahoe Basin, and in our yard no less
We have been a little bored lately. Storm after storm has been the norm this year. That's good as the drought we've had for the past several years has left California very dry. We have plenty of snow right now and even though when it clears there is no other place we'd rather be, this winter has been tough on us. What gets our juices flowing is wildlife and we just haven't seen much lately.
No more signs of the bobcat on this overcast morning so I head back to the computer to work on my eBook on the Grand Tetons. Around 3 pm in the afternoon Kathy calls out again. I run to the rear slider and there, across the river on the snow bank is our new little friend. I had my cameras close to the slider and quickly grabbed the body with the 200-400mm lens attached. Opening the slider slowly, so the sound wouldn't scare the bobcat, I raised my lens, took a short step outside, and clicked away. The sighting lasted just a little over a minute and 30 clicks.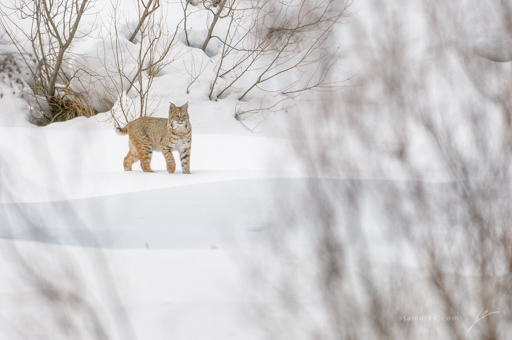 Across the river shot from my deck
I put on my snow shoes and attempted to find the cat. No luck. I waited for some time then realized I had crossed its path. It appeared to have jumped back across the river to our side and move into the thicket of trees. I didn't bother tracking. I new it was probably long gone.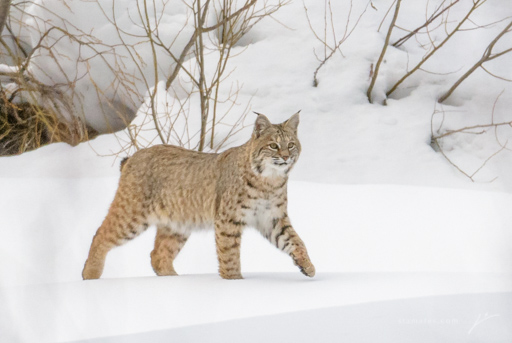 The best of the 30 clicks and the one that made my day
I returned to the house to find Kathy in renewed spirits, me too. We discuss how little it takes to keep us happy. Just a short moment of a great wildlife sighing and all is right with the world.
Note: I published this on Facebook and got so many likes and shares I decided to write this blog. Thanks to everyone. You can share this blog, too.